Development Concept
A GREEN SPACE IN THE CENTER OF THE SITE BRINGS ABOUT NEW MOTIVATION FOR BUSINESS
Just taking a moment to linger in the green space provides comfort and peace of mind, while bringing forth new vitality. "Akasaka Intercity AIR," with greenery at its very heart, will create a workplace where you can relax and enjoy the rich bounties of nature.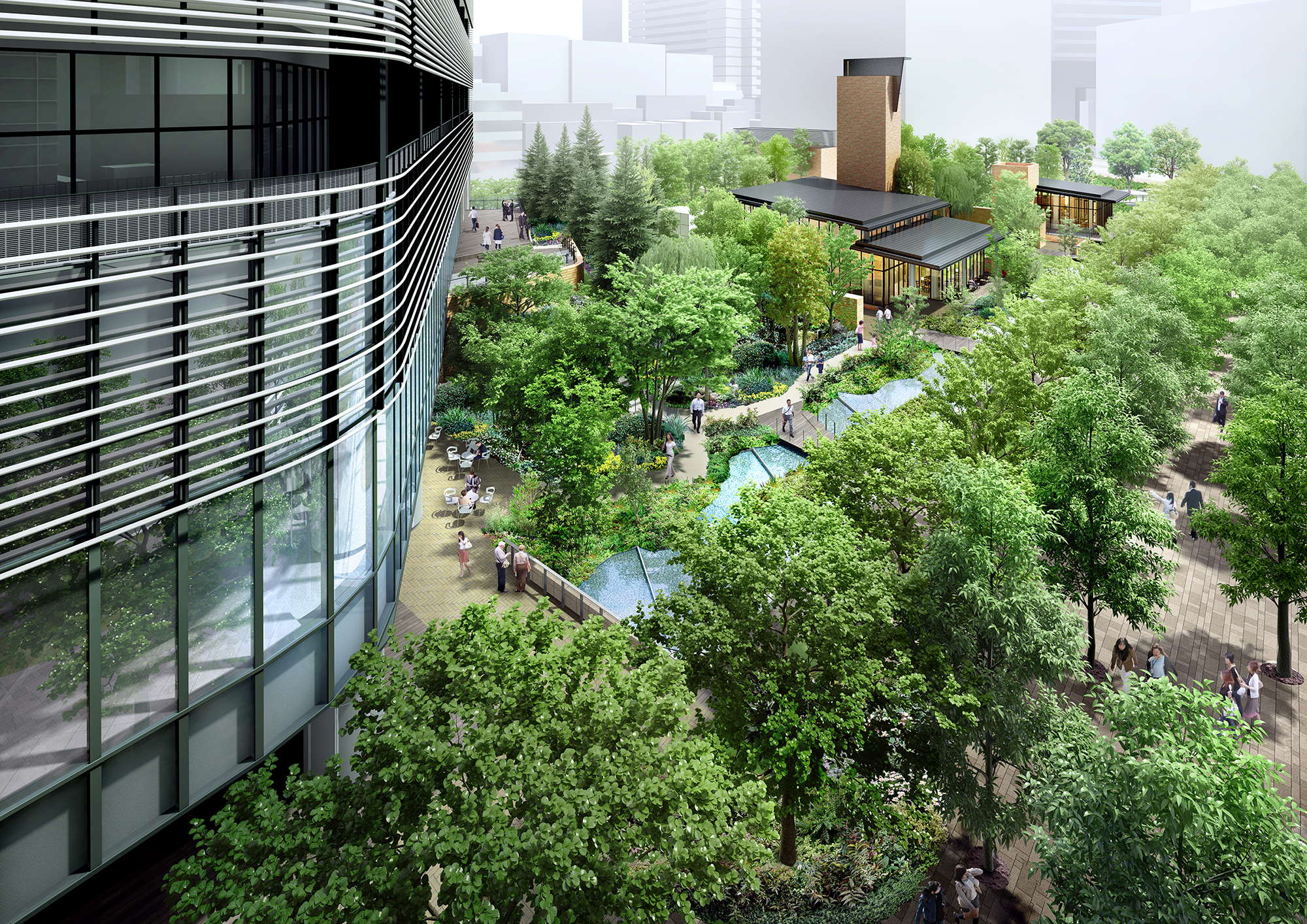 Creating a relaxing work spot
With an abundance of intertwining waterways and forestry, the green space is a place to find peace of mind and broaden business inspirations.
Free Wi-Fi (wireless internet access environment) for everyone is available throughout the green space.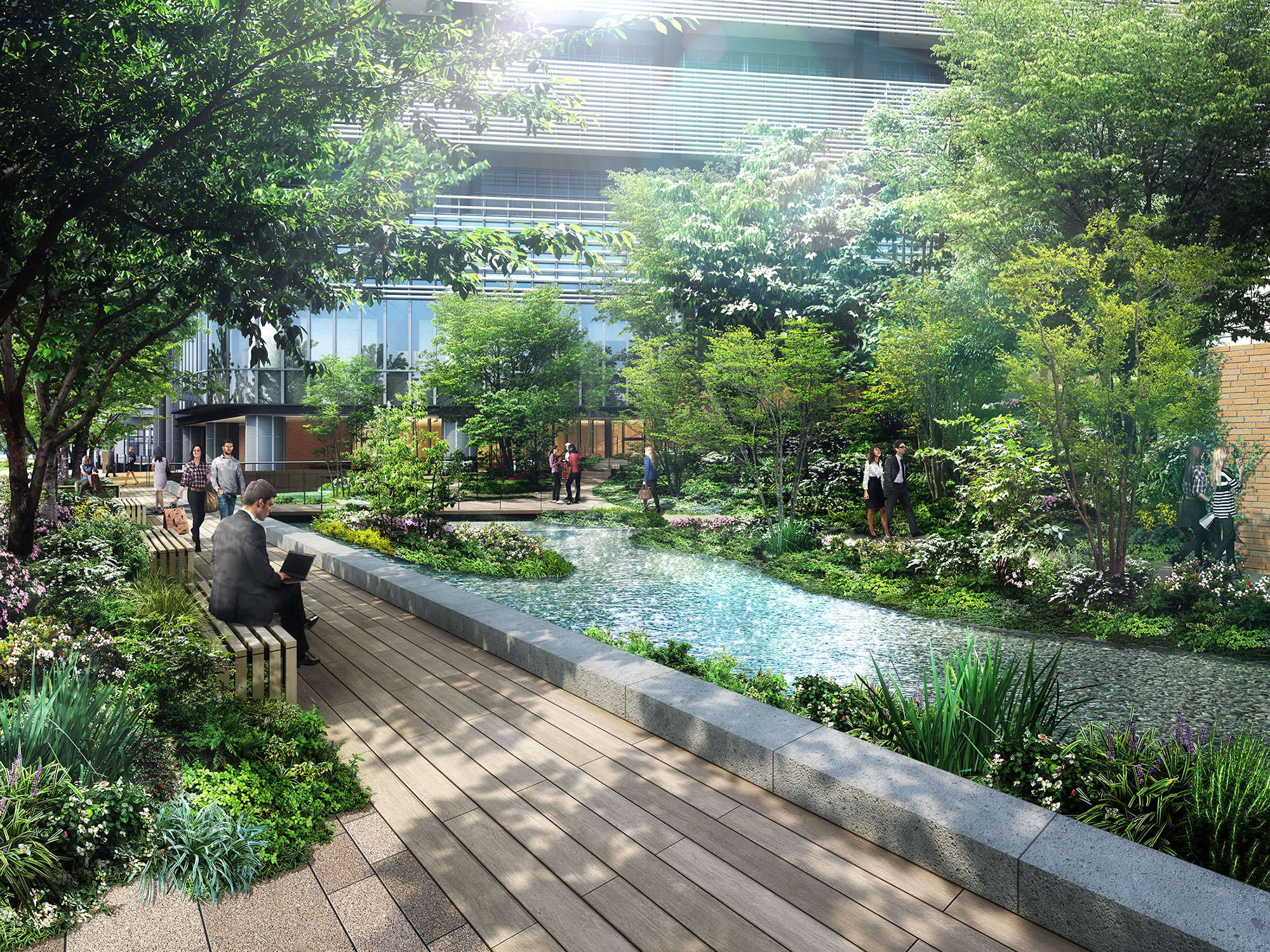 Feel the change of seasons from the office lounge
This office entrance lobby on the second floor serves as a platform to the business area. This prestigious space is an open office lounge overlooking the expansive green space. With the natural landscape changing with the seasons, it is a comfortable space that accommodates various uses; communicating with clients, sharing business ideas, etc.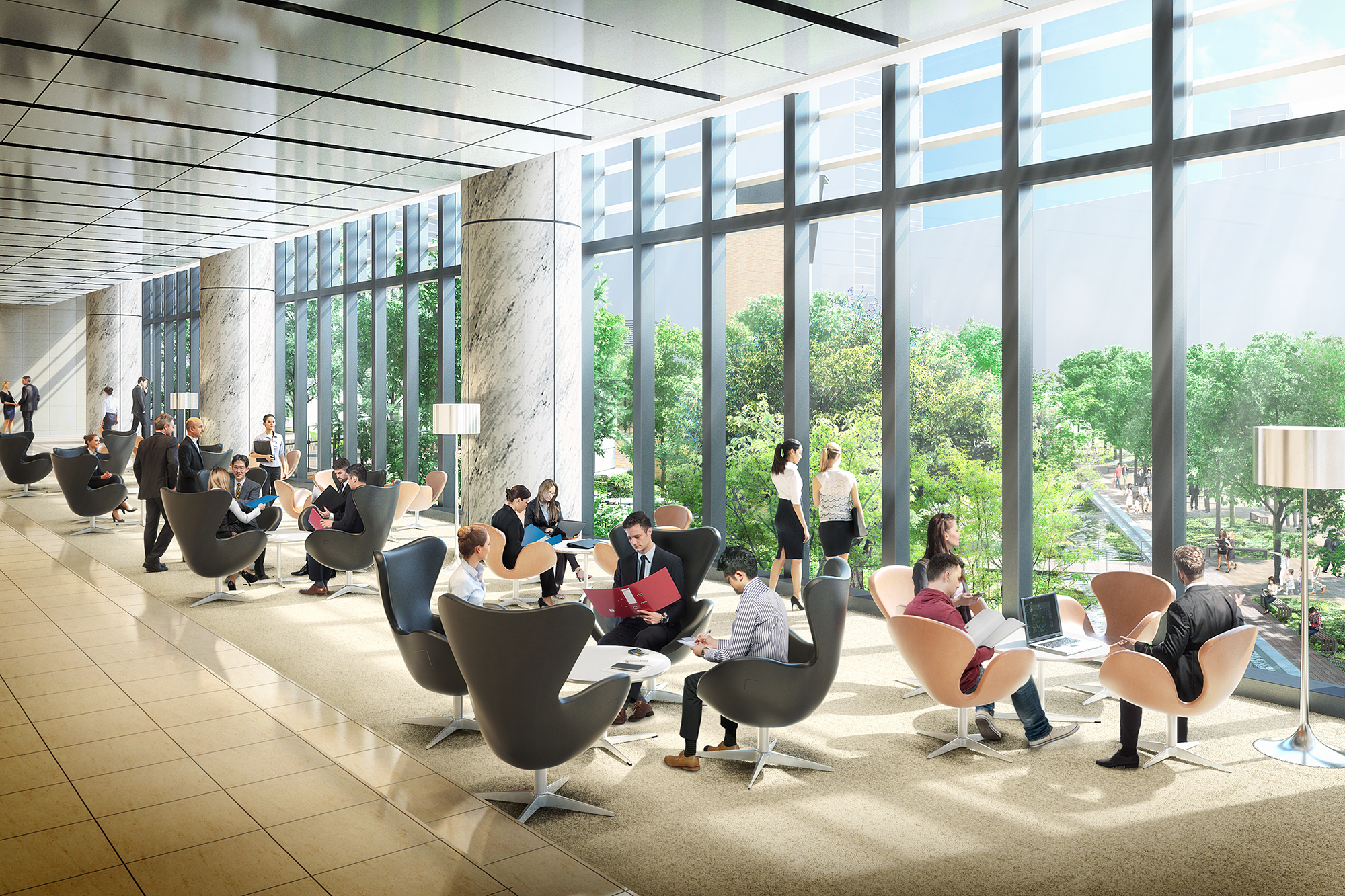 BRINGING GROWTH TO CITIES AND BUSINESS
AS A SYMBOL OF "DAIGAIKU"
Promoting redevelopment
as a new station-front hub
Akasaka Intercity AIR is a redevelopment project located in one of the International Strategy Comprehensive Special Zones (the Special Zone for Asian Headquarters) and Top Priority Urban Renewal Areas.

Our aim is to create an attractive multi-purpose urban area with business, commerce and residence integrated, that serves as a new station-front hub smoothly linked to Tameike-sanno Station on the Tokyo Metro lines.

Through this project, we will work to create a highly disaster-resistant city by securing temporary evacuation spaces for those unable to return home during a disaster and emergency power sources and by installing emergency supply storerooms among other measures, as well as to carry out consolidation of land, new construction of subway passageways and development of narrow streets to form a pedestrian-friendly network and expand green areas.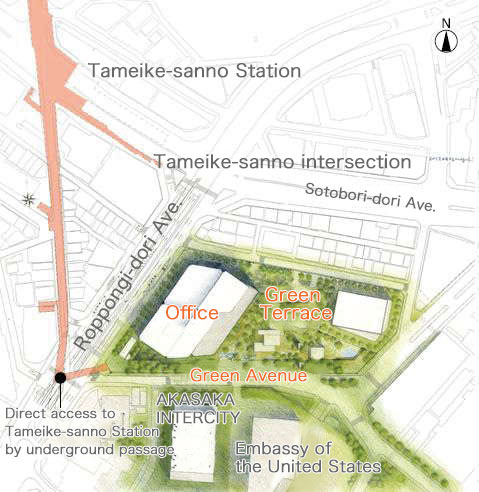 Renewal of the green road that leads to Toranomon
"Daigaiku" is an ever-developing urban revitalization area located in a richly international and diversity-minded area surrounded by Roppongi-dori, Sotobori-dori, Sakurada-dori, and Gaien Higashi-dori. "Akasaka Intercity AIR" is located at the northern entrance of this "Daigaiku" area. Not only serving as a place for supporting business growth, it also promotes pedestrian traffic, and is an integrated part of the city connecting Akasaka and the Toranomon Green Road Concept on the Western side, that stands at the forefront of future development in the area.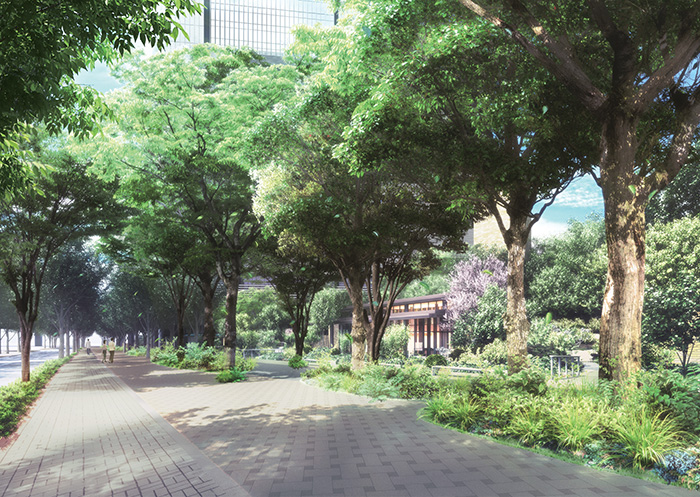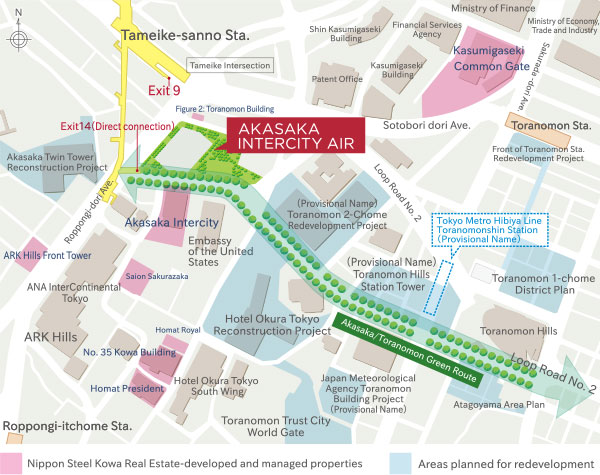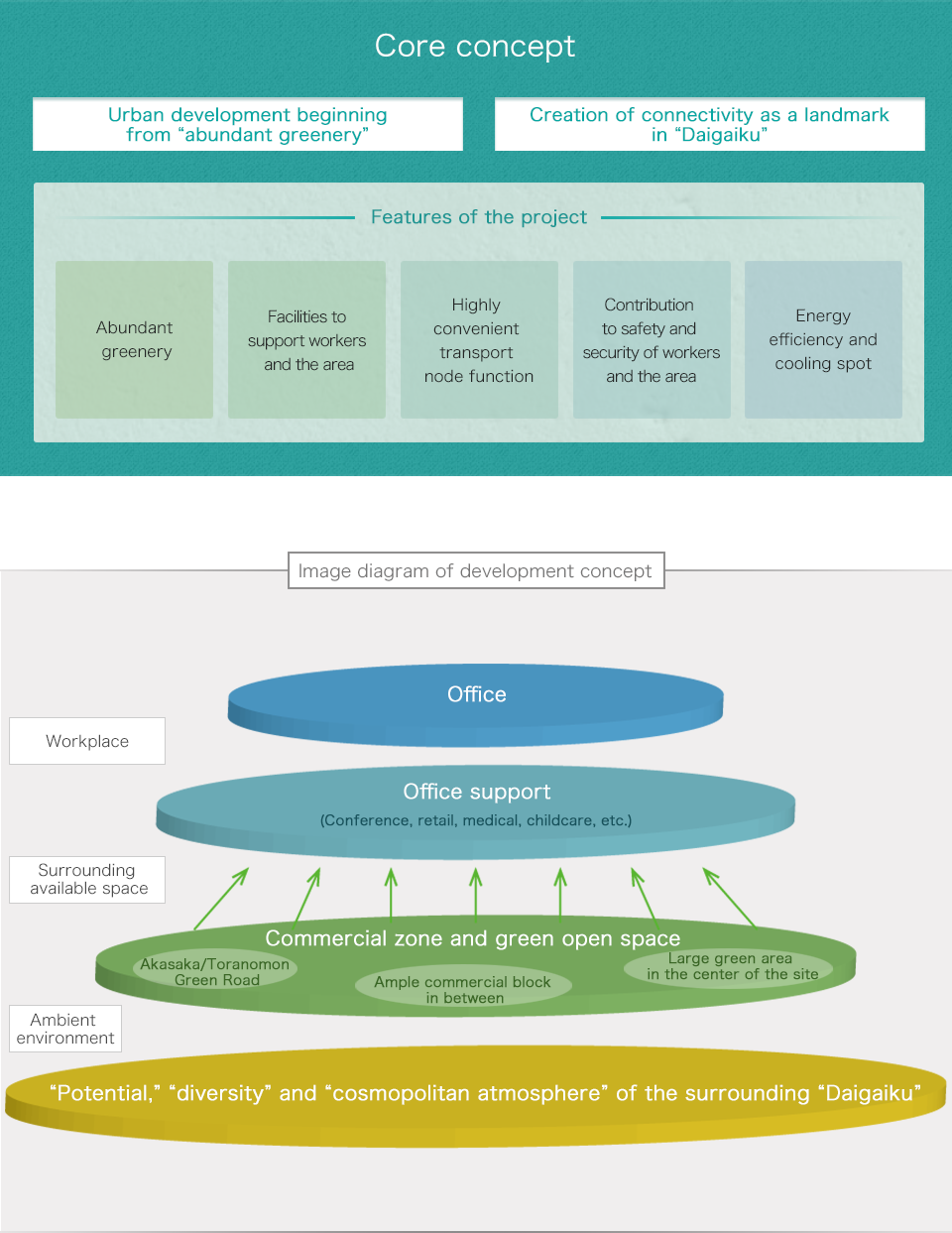 "good things," an area book introducing the charms of the surrounding area
- A business area difficult to find in central Tokyo with a cosmopolitan, pleasant living environment -
With the opening of ARK Hills in 1986, the area has evolved into an international business hub with a concentration of leading companies from both Japan and abroad. Ever since, it has seen large-scale developments progress along with enhancement of transportation infrastructure such as in the construction of subways.

Thanks to abundant greenery nurtured in the course of the redevelopment as well as to the area's traditional historical and cultural background, the area has transformed remarkably into an area with a cosmopolitan, pleasant living environment that is quite rare even in central Tokyo. Several projects including Akasaka Intercity AIR are also currently underway.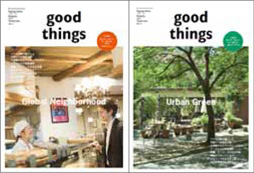 Download the booklet
Introducing values of the area under the theme of "Global Neighborhood" and "Urban Green"
The area book introduces the appeal of the area under two themes of "Global Neighborhood," a value which enables people of various nationalities and cultural backgrounds to lead pleasant and active urban lives, and "Urban Green," an environment with abundant greenery that is rarely found in a city.
An English version of the book is also available.
Overview of the area book
Name
:
good things
Issue date
:
March 30, 2016
Target area
:
Areas surrounding Akasaka 1-chome and Roppongi 1-chome
Contents
:
Produced with the concept of "Find out, learn and enjoy more," the "Global Neighborhood" edition features festivals, events, spots recommended by ambassadors, restaurants serving various national cuisine, etc. while the "Urban Green" edition features landscapes with a garden, walking routes, avenues with cherry trees, shops, etc. Under these two themes, the book introduces items and activities recommended by people who work or live in the area.
Specs
:
B5-size, 24 pages
Languages
:
Japanese, English (*separate booklets)
Issue
:
good things production committee
(Nippon Steel Kowa Real Estate Co., Ltd., Sumitomo Realty & Development Co., Ltd., Mori Building Co., Ltd. *Listed in the order of the Japanese phonetic alphabet)