Structure/BCP
A SAFE LOCATION EQUIPPED WITH THE WORLD'S FIRST DAMPENING SYSTEM
A 200-HOUR, 45VA/m
2

BACKUP POWER SUPPLY
IN AN EMERGENCY, METICULOUSLY PREPARED
FOR A LARGE EARTHQUAKE

Akasaka 1-chome, where "Akasaka Intercity AIR" is located, is on a firm stretch of land on the eastern edge of the Musashino Plateau, which, according to Tokyo's Earthquake Danger Measurement Investigation, is an area with the lowest risk of danger. Furthermore, through the use of solid structures with advanced vibration-suppression systems, people and businesses alike are well-protected in the event of a major earthquake.
"Akasaka 1-chome" is above the highest predicted height for a tsunami
Located in "Akasaka 1-chome" which is above the highest predicted height for a tsunami

Source: Geospatial Information Authority of Japan (D1-No.455 "Tokyo metropolitan area" 1:25,000 digital altitude topographical map)
*Estimated damage to Tokyo based on a Nankai trough megathrust earthquake(via Tokyo Disaster Prevention Homepage).

An area previously known to be at low risk for earthquakes

Source: "The Seventh Community Earthquake Risk Assessment Study" by the Tokyo Metropolitan Government (2013)

An area resistant to liquefaction

Source: "Projected Liquefaction in Tokyo, 2012, Revised" by Civil Engineering Support and Training Center, Tokyo Metropolitan Government
Robust structure to withstand long-period seismic motion
Securing 1.5 times the resistance to earthquakes demanded for general super high-rise buildings as well as quake resistance equivalent to the highest grade, "Type I," set forth in the "Standards for General Earthquake-Resistant Plans of Government Facilities" by the Ministry of Land, Infrastructure, Transport and Tourism.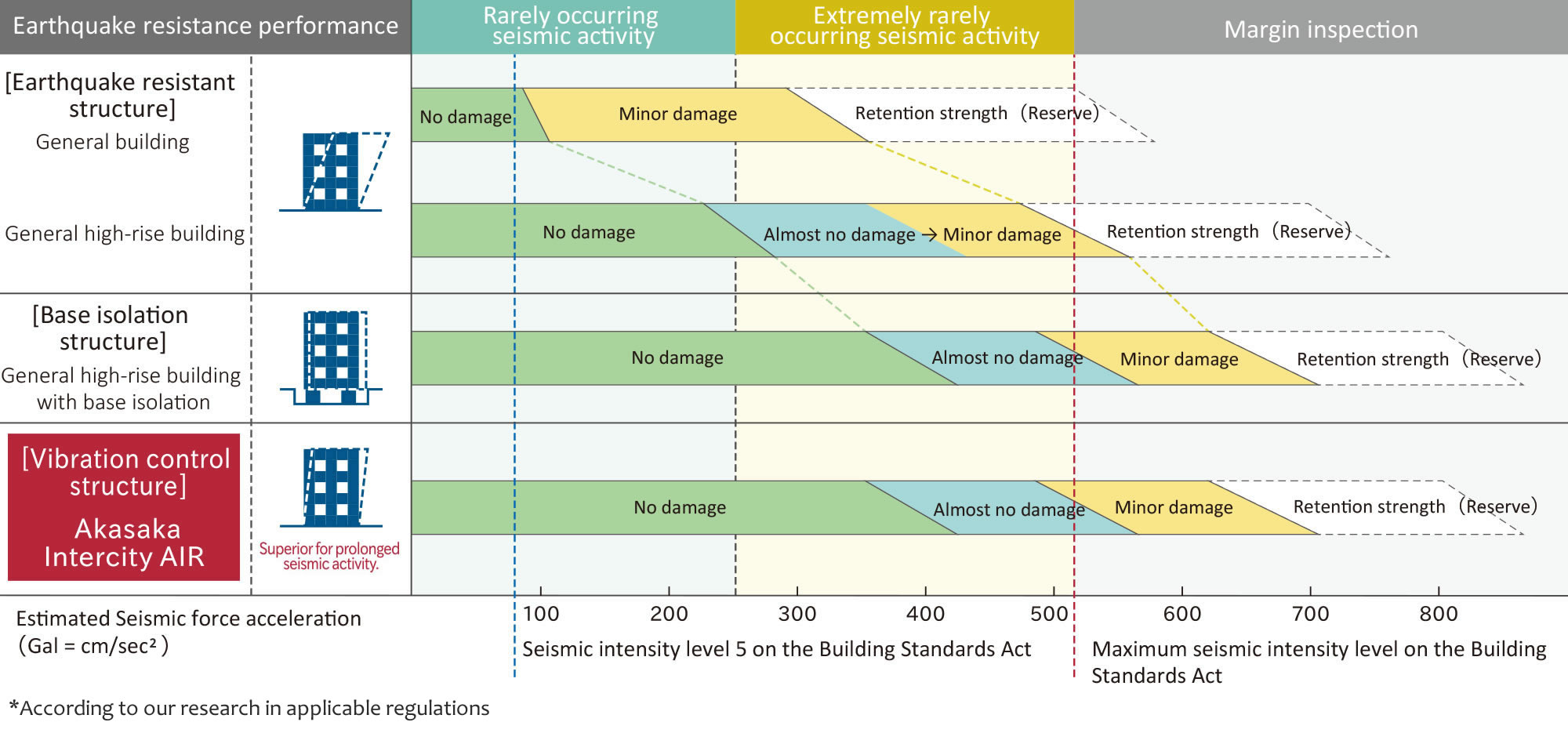 Three types of "Seismic Control Devices" featuring brand new technology, the first of its kind in Japan (and in the world).
Devices have been set in the best possible areas according to vibration control device specifications and form of the buildings.
A 200-HOUR, 45VA/m
2

BACKUP POWER SUPPLY PREPARED TO SUPPORT BUSINESSES
IN EMERGENCIES

Emergency power generators, with a dual fuel system of medium pressure gas and heavy oil, supply a maximum of about 200 hours to tenant areas at 45VA/m

2

in order not to halt business operations in the case of an emergency or power outage.
Eight day emergency power supply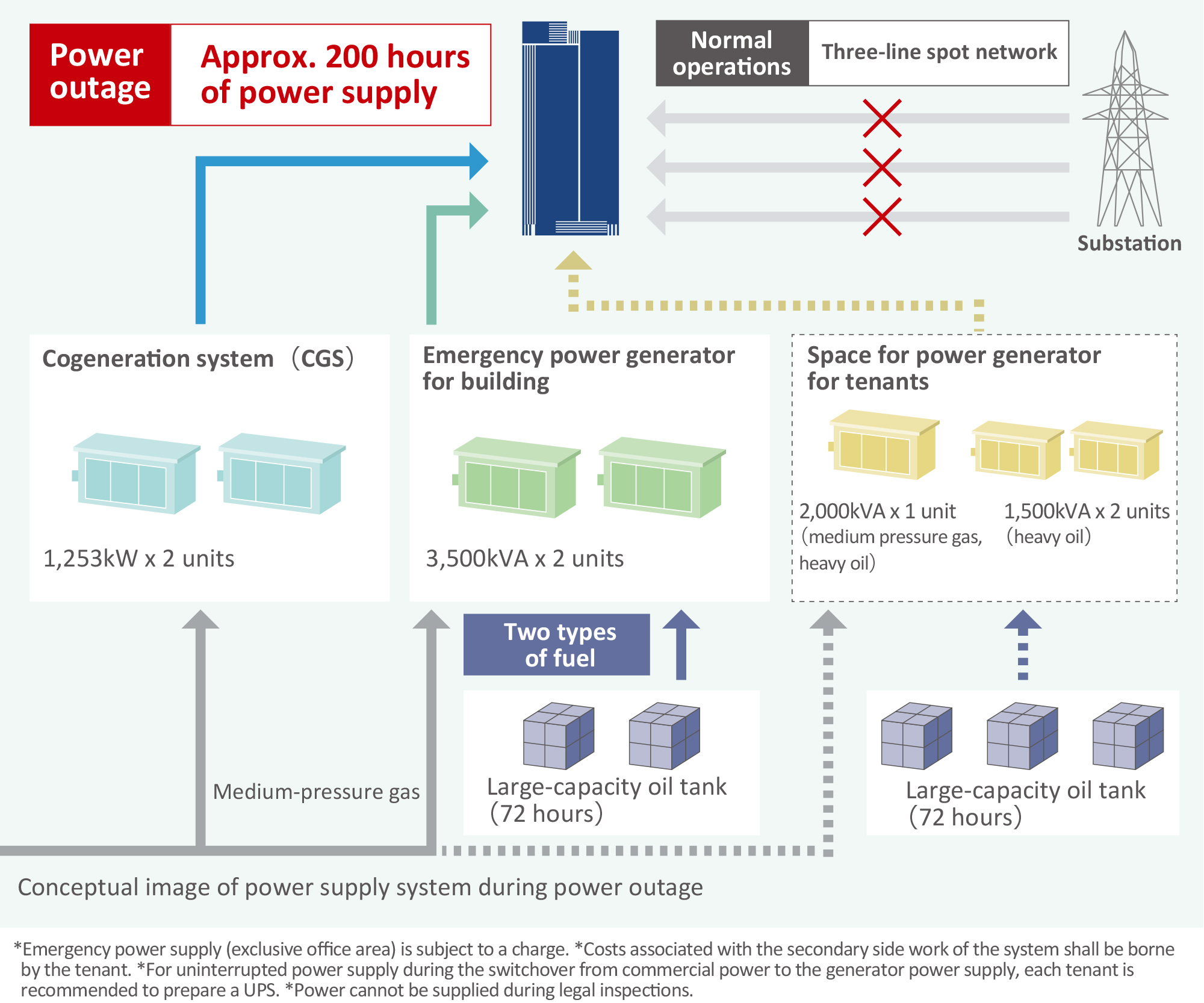 We will support business continuity efforts even during power outages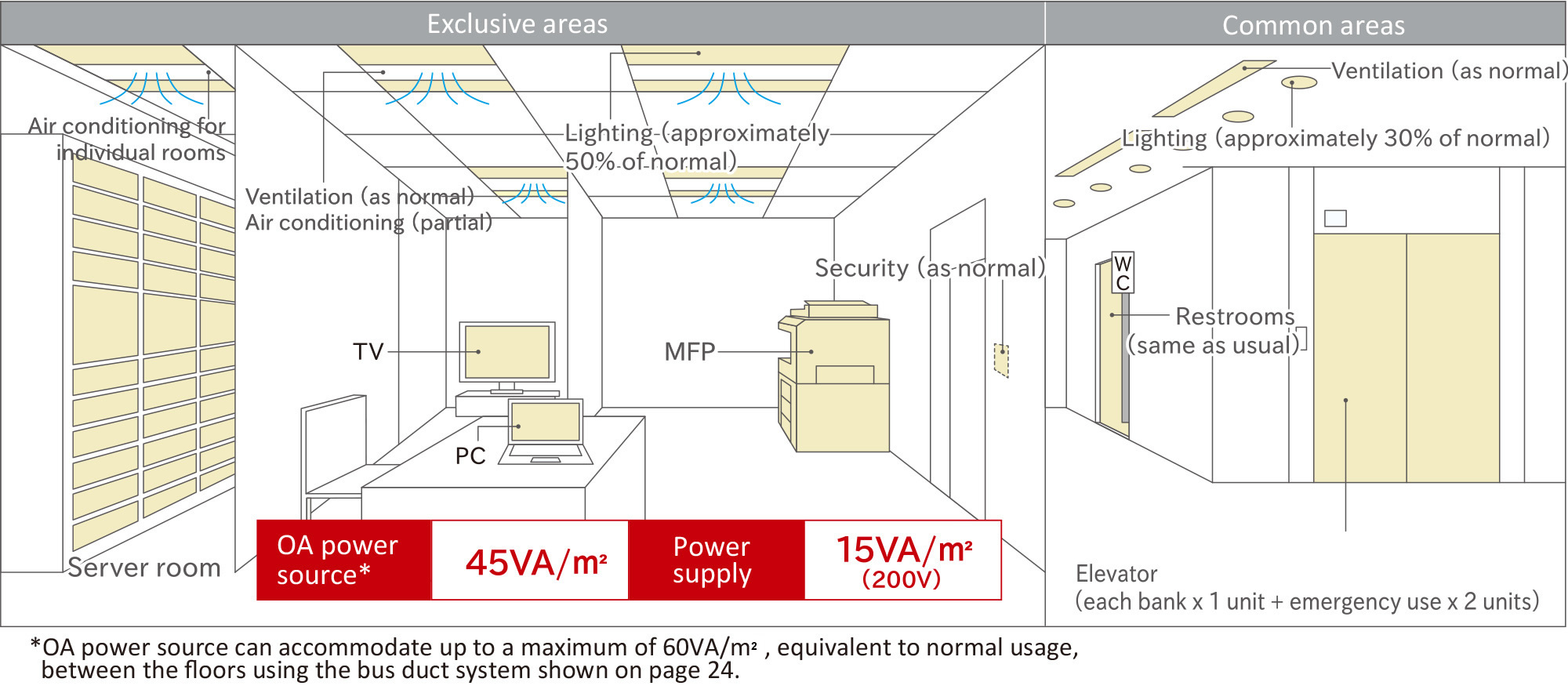 Preparations to bring you peace of mind during a disaster.
Introduced a "Damage assessment system" which quickly assesses building damage by automatically analyzing data collected from seismometers in the building.

Automatic restoration system for 2 emergency elevators introduced(2 per section)


Toilets that can be used, thanks to an emergency well, etc. for 7 days during water outages

5 emergency storerooms installed on each office floor